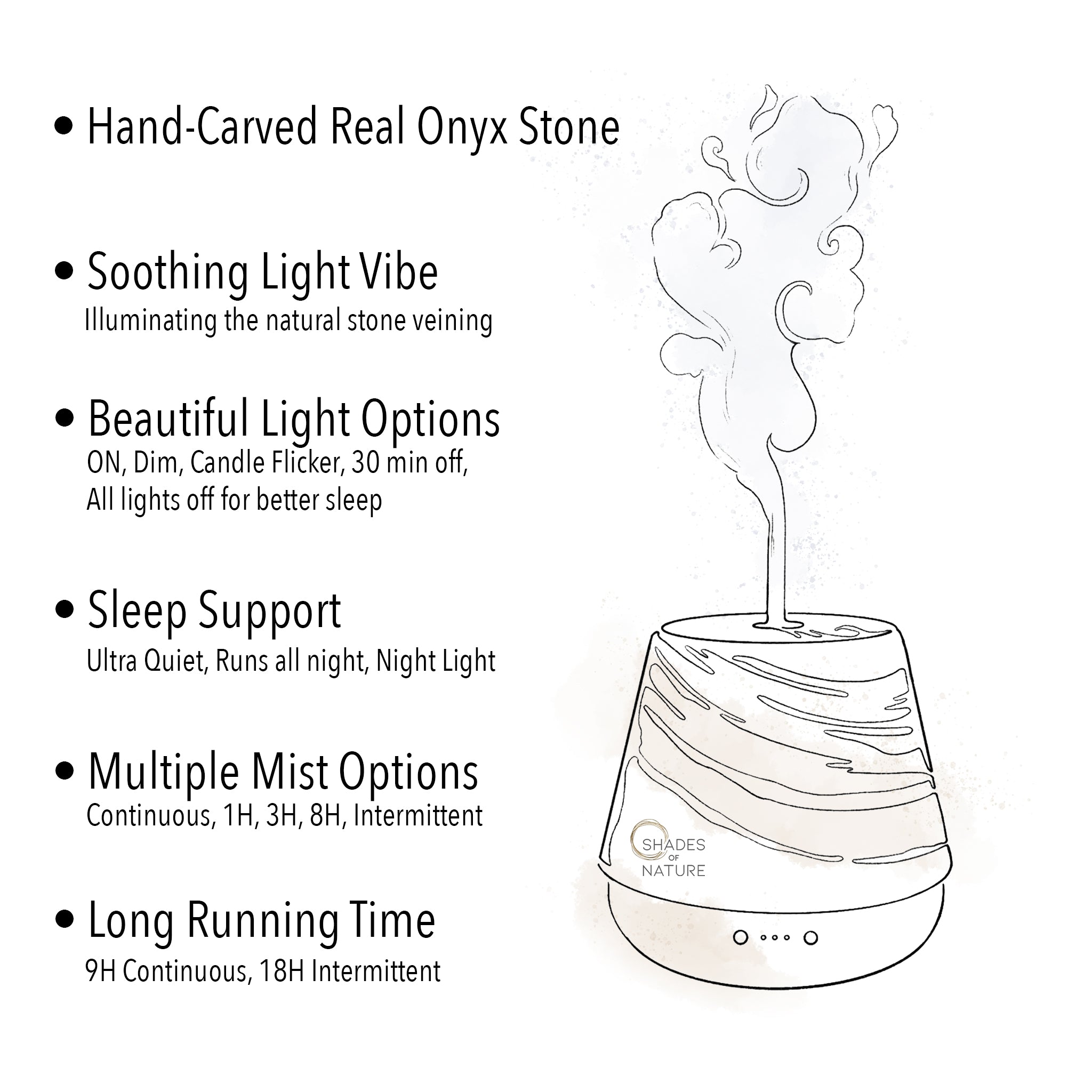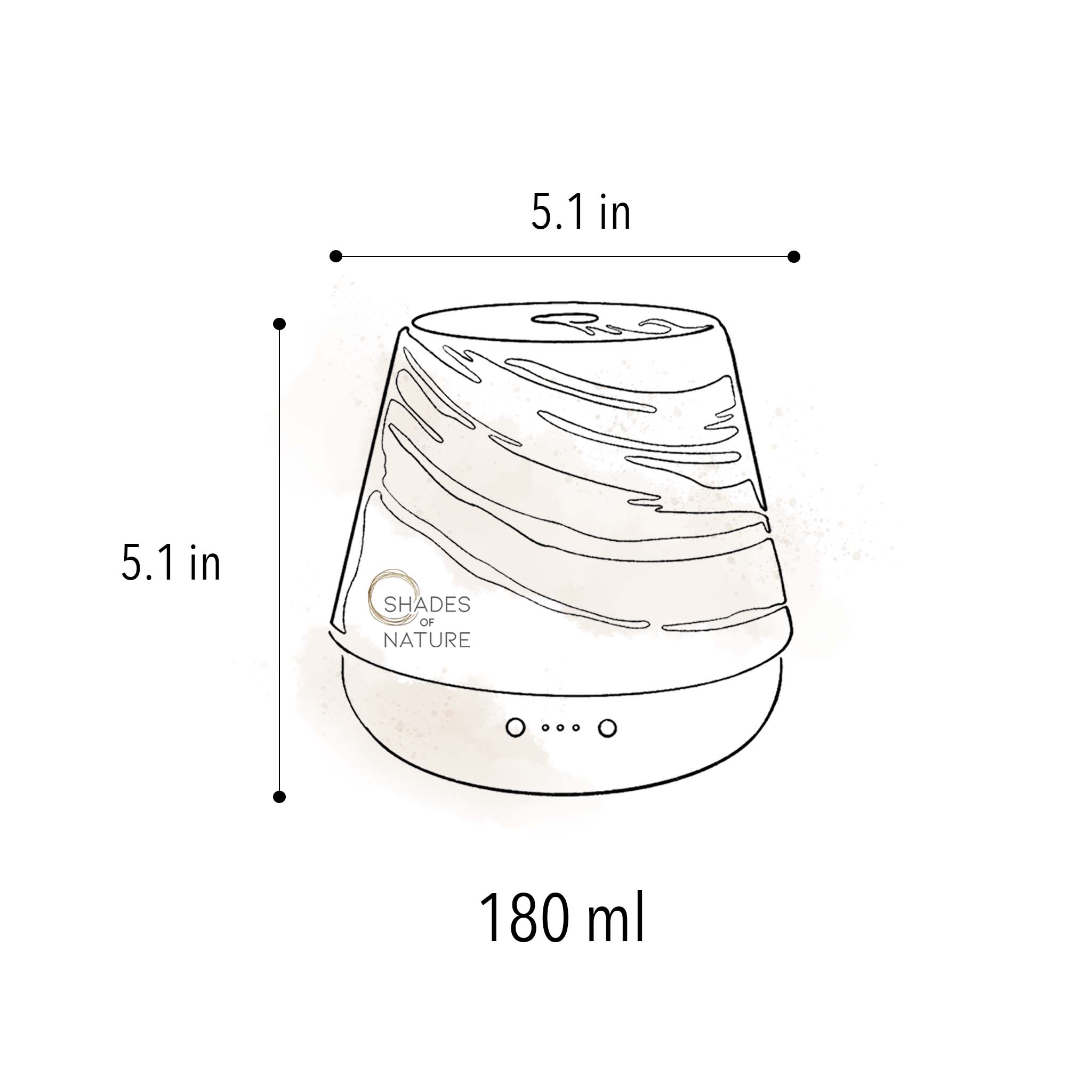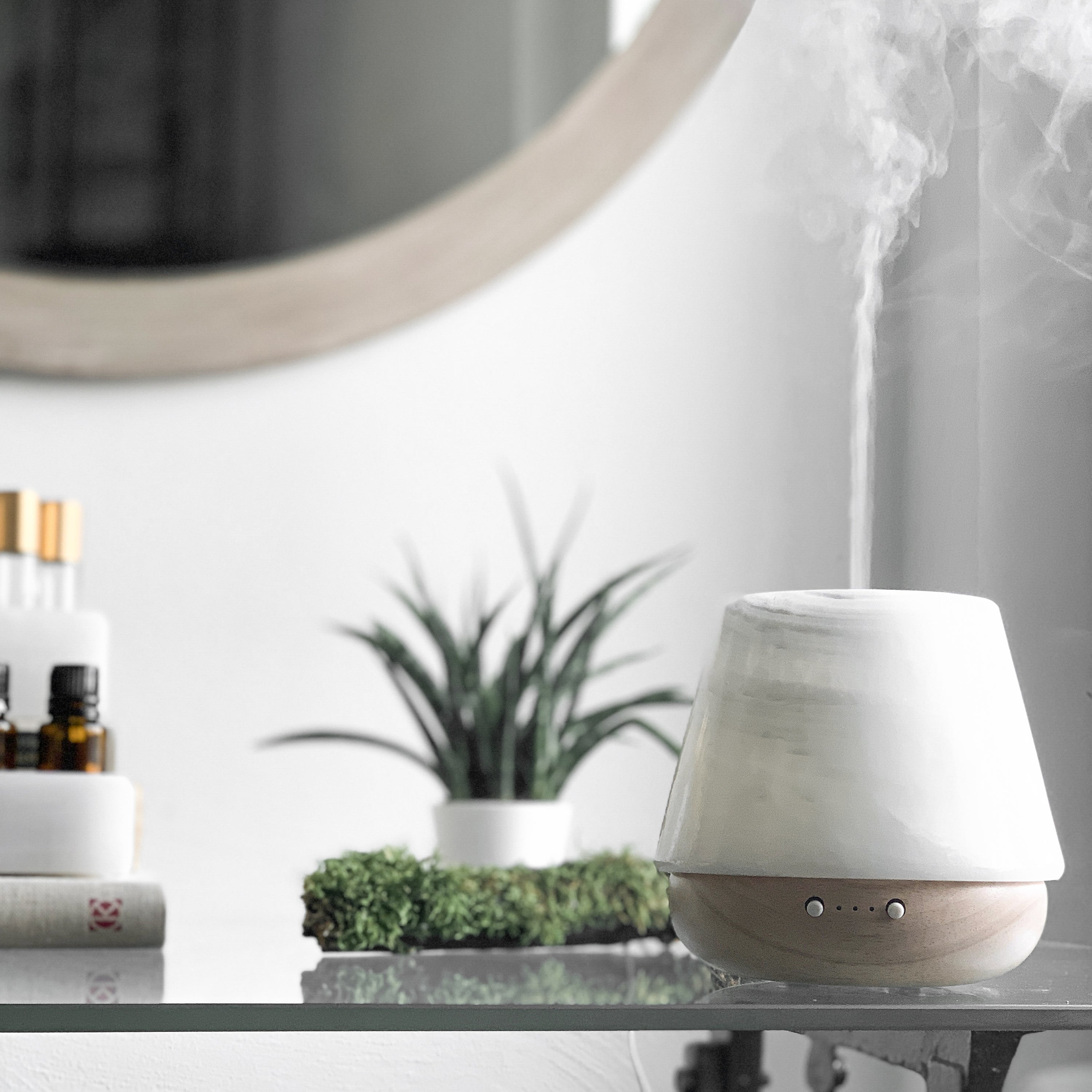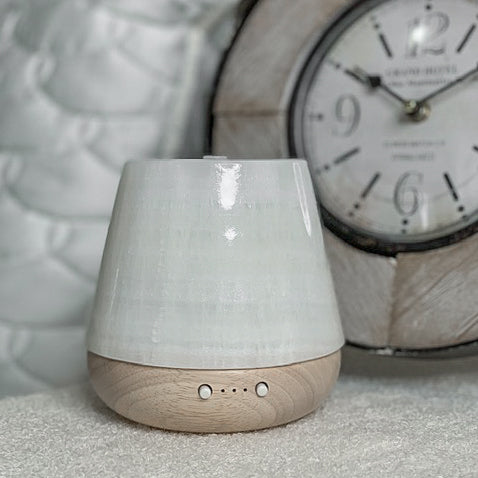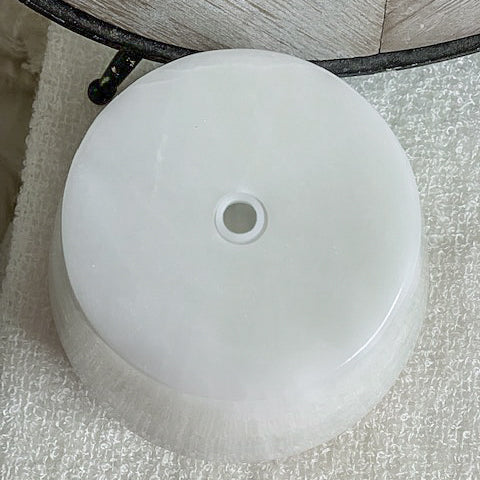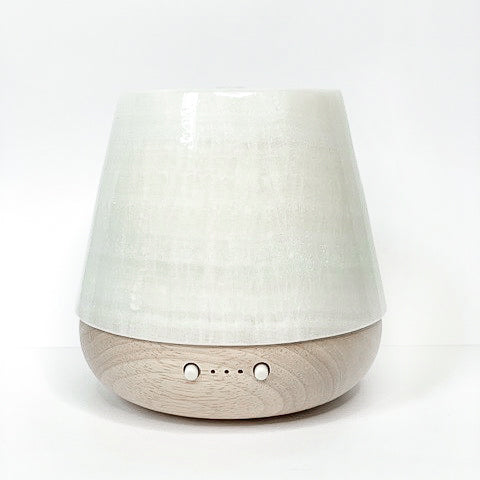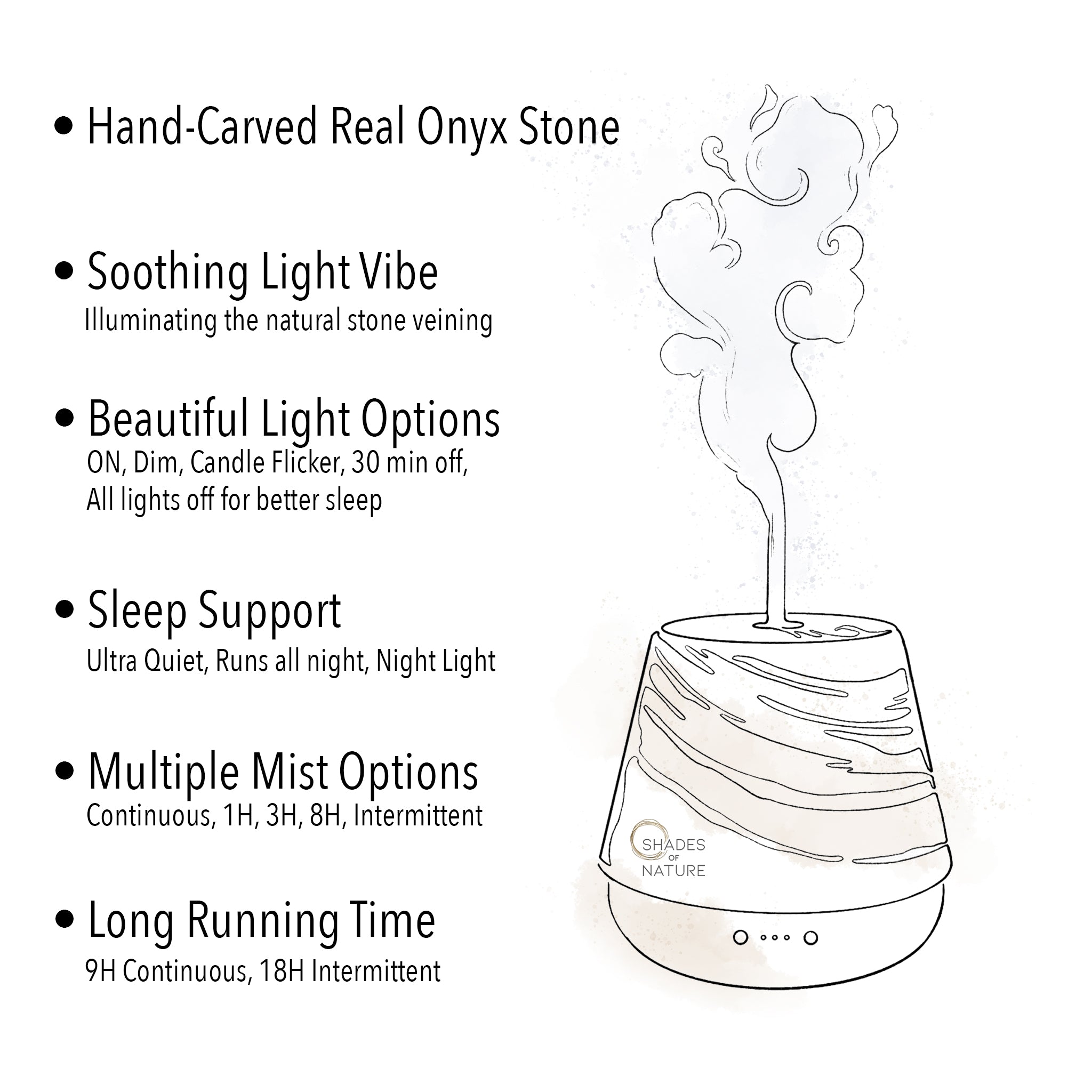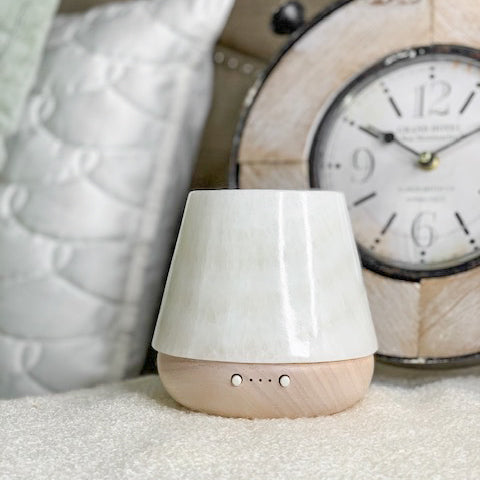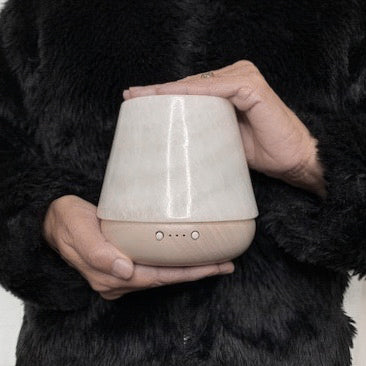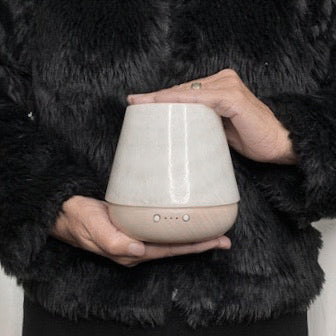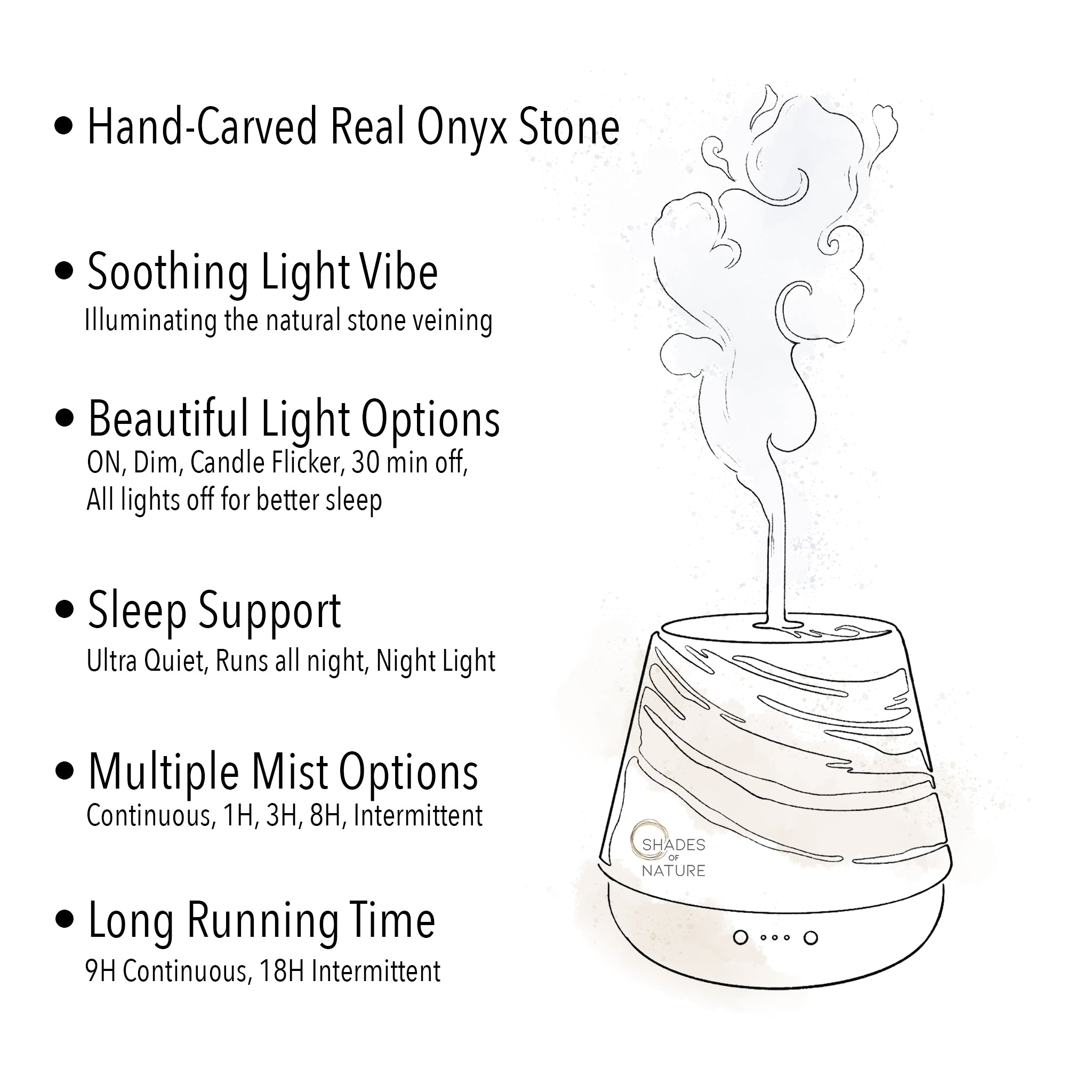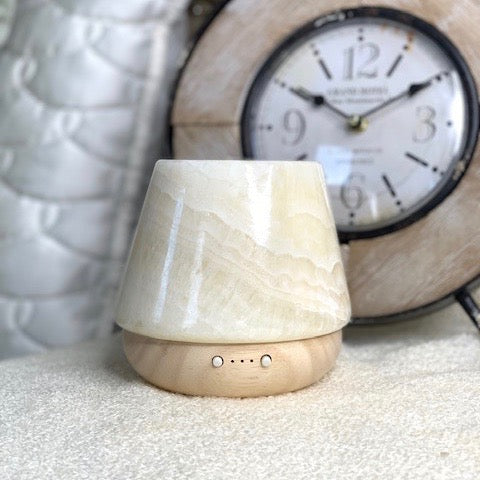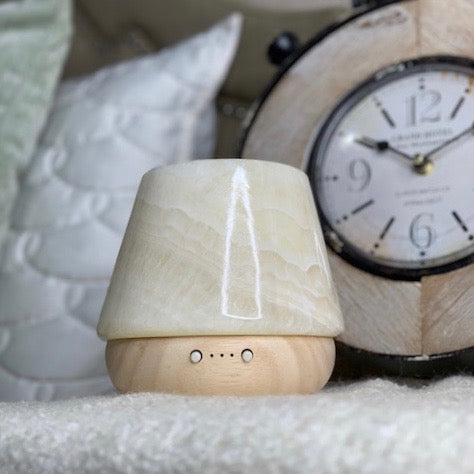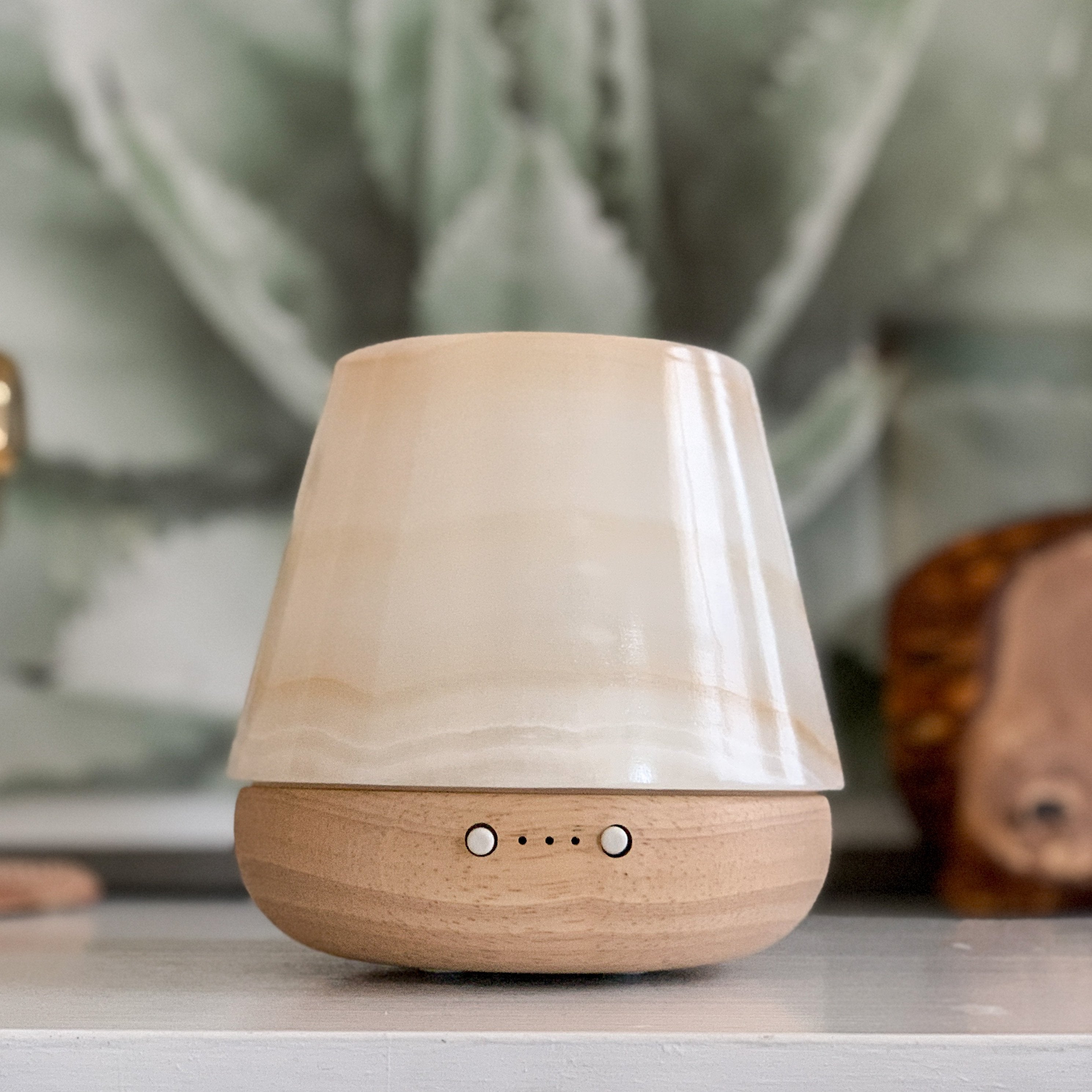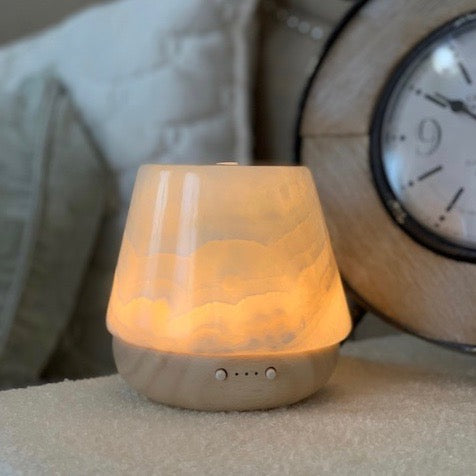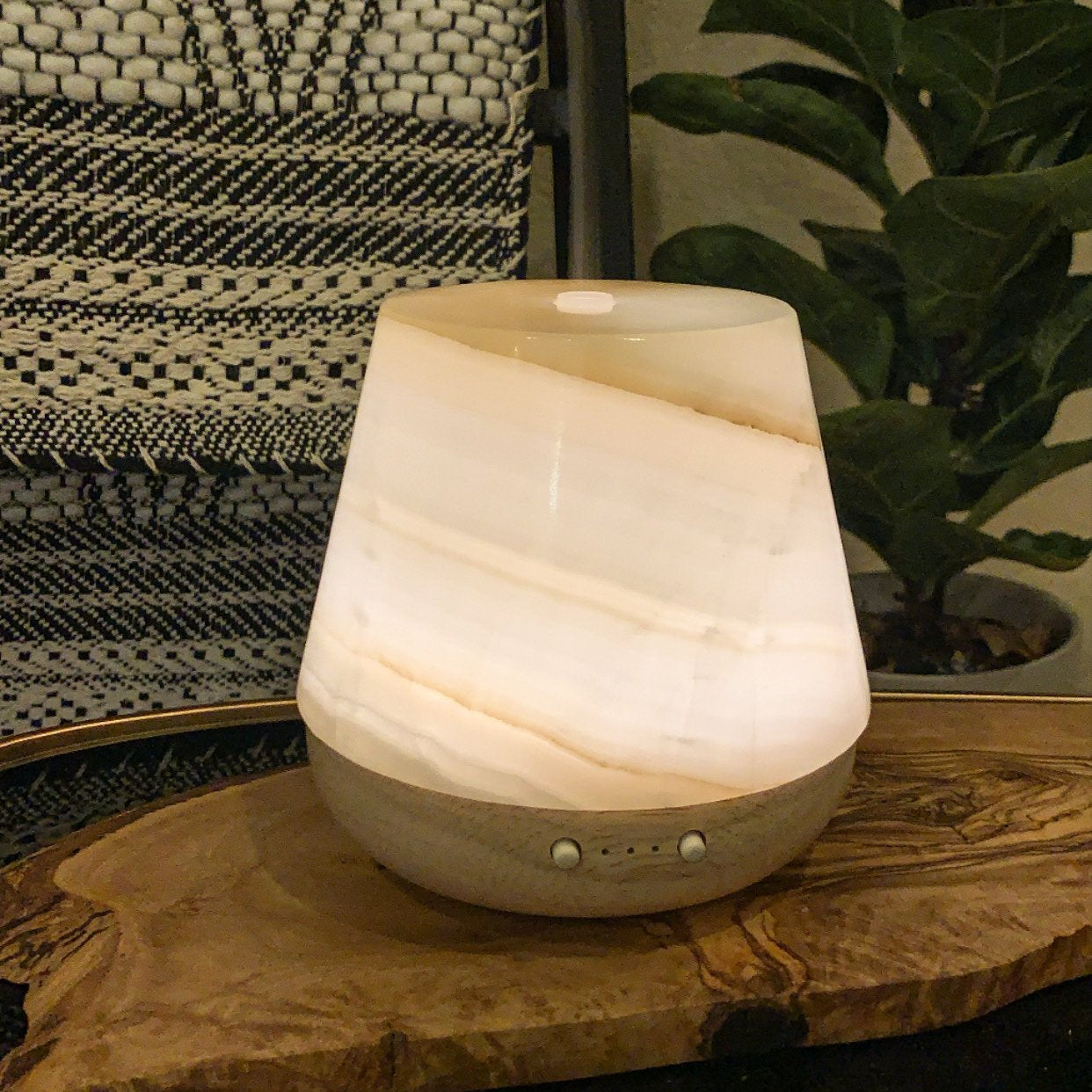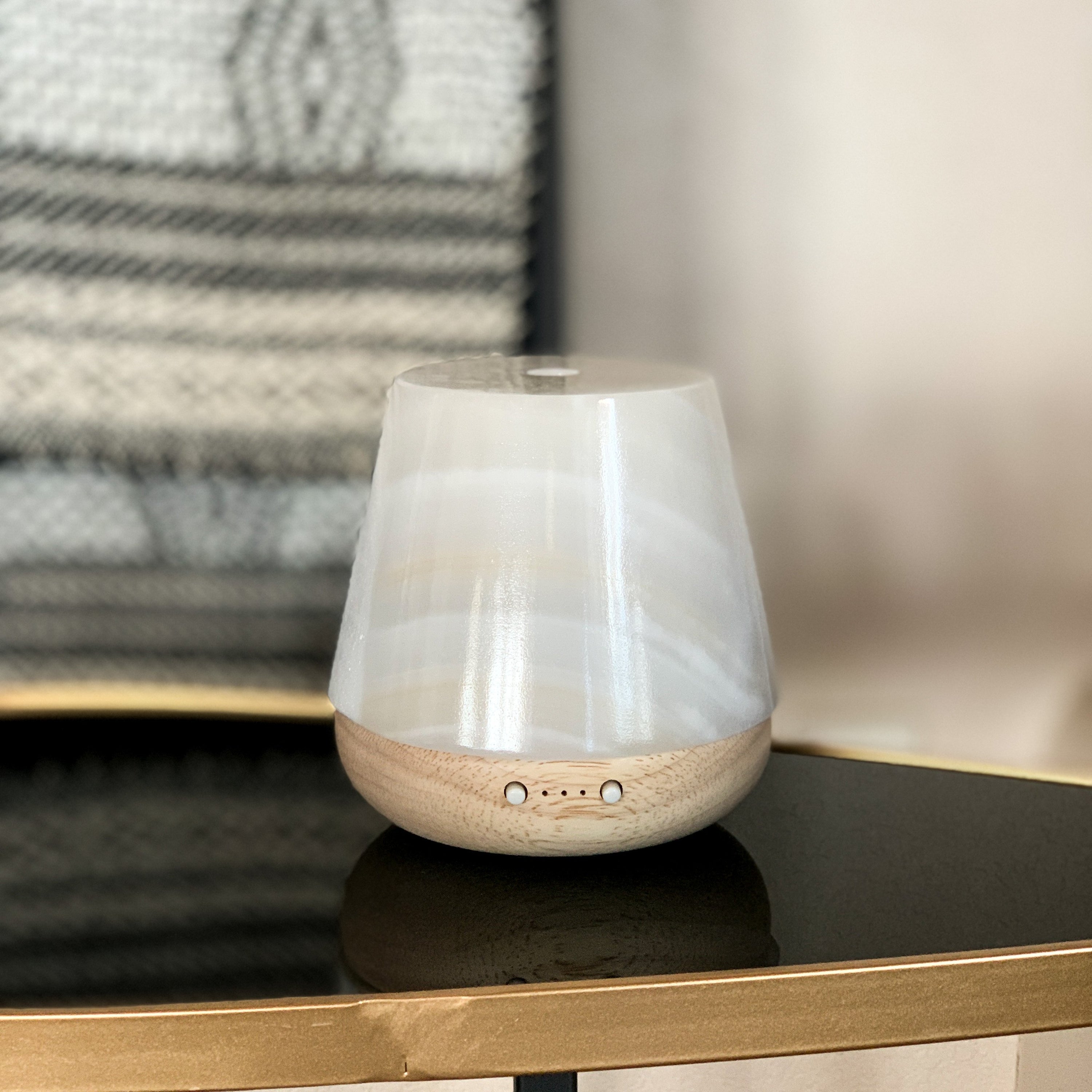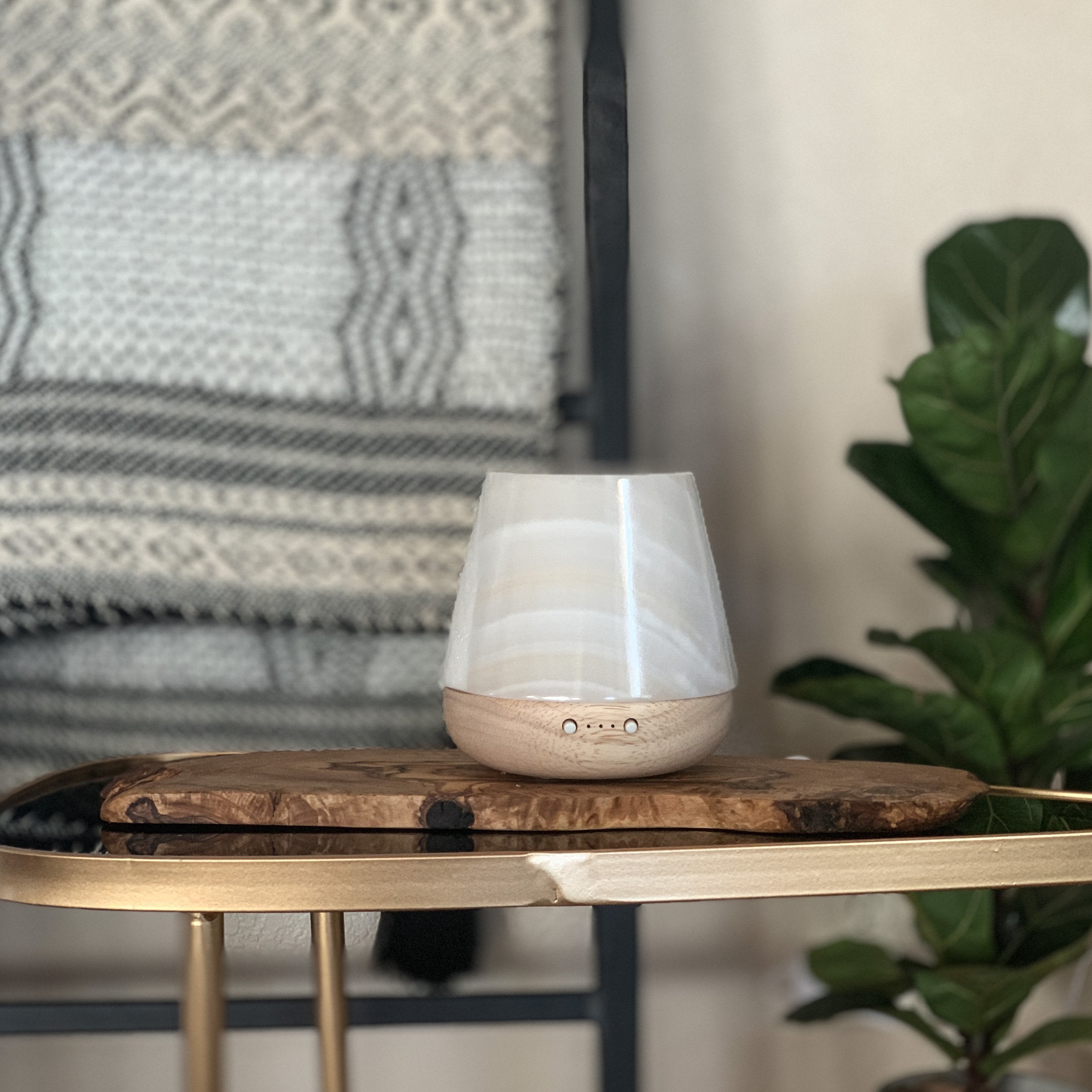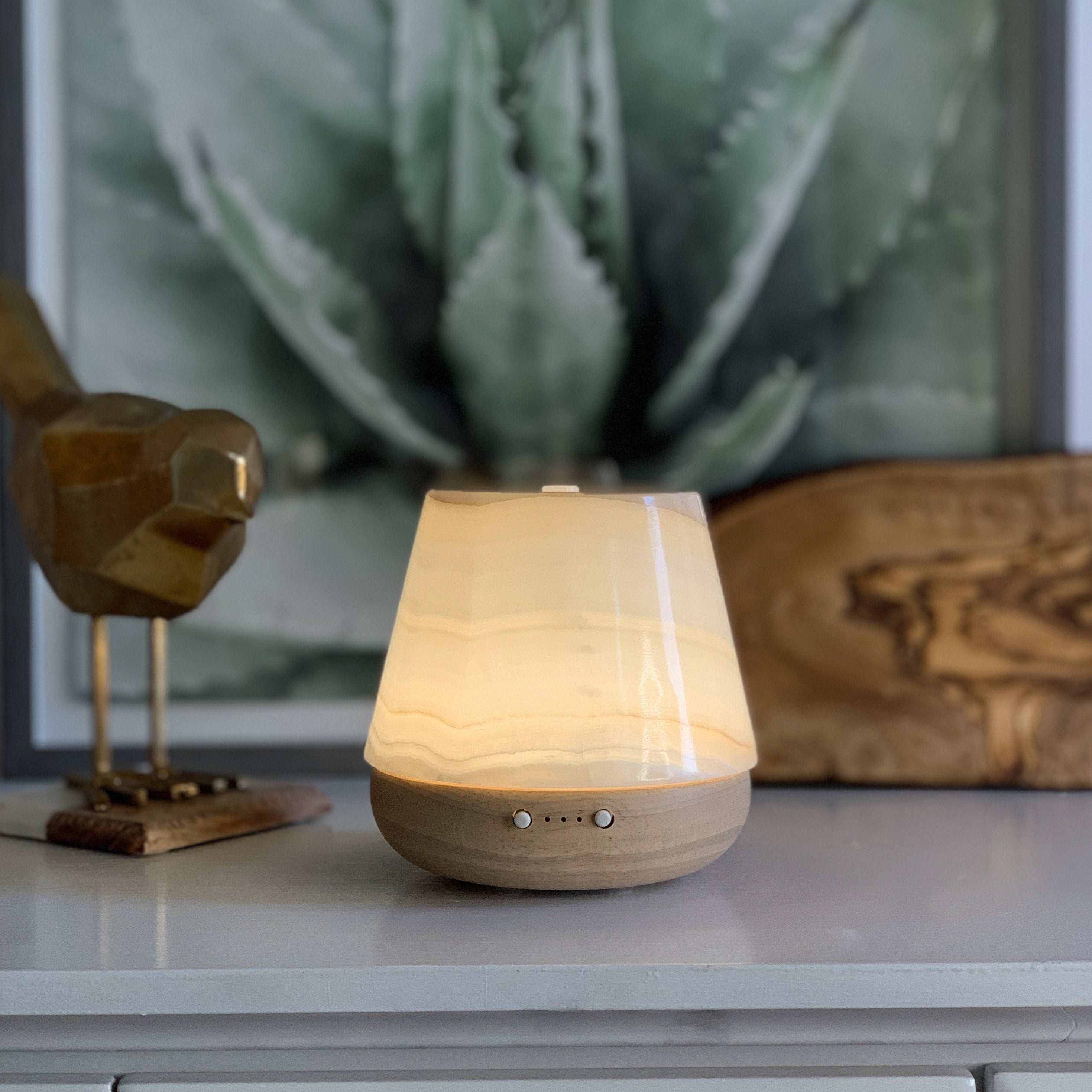 Description
Features
Complete the Look
Details
Guarantee
A Real hand-carved stone diffuser that's both a home decor piece and scents your home with natural essential oils. It has perfect natural lighting that illuminates through its translucent onyx stone design. 
The luxurious stone top sits on a compatible real beechwood base.
Designed for sleep support and perfect for a normal-sized bedroom.
- THE ONLY REAL STONE DIFFUSER on the world market
- SUPPORTS A NATURAL LIFESTYLE and enhances your home's beauty and environment.
- EXTREMELY LONG RUNNING: 9 Hours Continuous / 18 Hours Intermittent Mode.
- MULTIPLE MIST SETTINGS: ON, 1 hour, 3 hours, 8 hours, Intermittent.
- GREAT SLEEP SUPPORT: Ultra Quiet, Night Light, 30 min off Light, ALL Lights Off.
- DIFFUSER SIZE: The perfect size, 5.1" Height x 5.1" Diameter (Width)
- NATURAL LIGHT SETTINGS: ON, Dimmer, Candle Flicker/Breathing Light, 30 min off.
There is only one natural light color, NO disco-colored light options.

Flawlessly matches with our Shades Of Nature stone Essential OIl Holder and any of our essential oils, they are all designed with high quality and intended to fit in with your home decor.

Ultrasonic diffuser - Utilizing ultrasonic diffuser technology, the Ruby Stone Diffuser vibrates at a frequency of 2.4 million times per second. This breaks up water and essential oils into micro-particles, therefore maintaining the beneficial properties of the oils.

Shades of Nature guarantees BEAUTY, QUALITY of CRAFTSMANSHIP, and FUNCTIONALITY, if you are unhappy with your Stone Diffuser or Stone essential oil holder for any reason, please let us know so we can refund, replace, or resolve the issue. You must contact us within 30 days after you receive it.


Absolutely love
I've had many diffusers over the years, but none is as beautiful as this one, which is the Honey Waves color. All the others on the market—even the $100+ "stone" ones—are not pretty enough that I would leave them on my counter. I'm so happy with this one, and it's staying on the counter! It functions great. I love the light options and the intermittent mist option.
Best Diffuser
This is by far the best diffusers I've ever used. I love the beautiful stone, and how it fits in with my decor. Highly recommend!
Stunning
This is a diffuser unlike any other with the look of the stone and the lighting choices which makes it so aesthetic! I just love it the best thing it goes for 6 hours straight!
Missing Piece
I contacted this company about a missing piece on my diffuser. I have received zero emails back about this.
Stone Diffuser
Best diffuser I have owned.