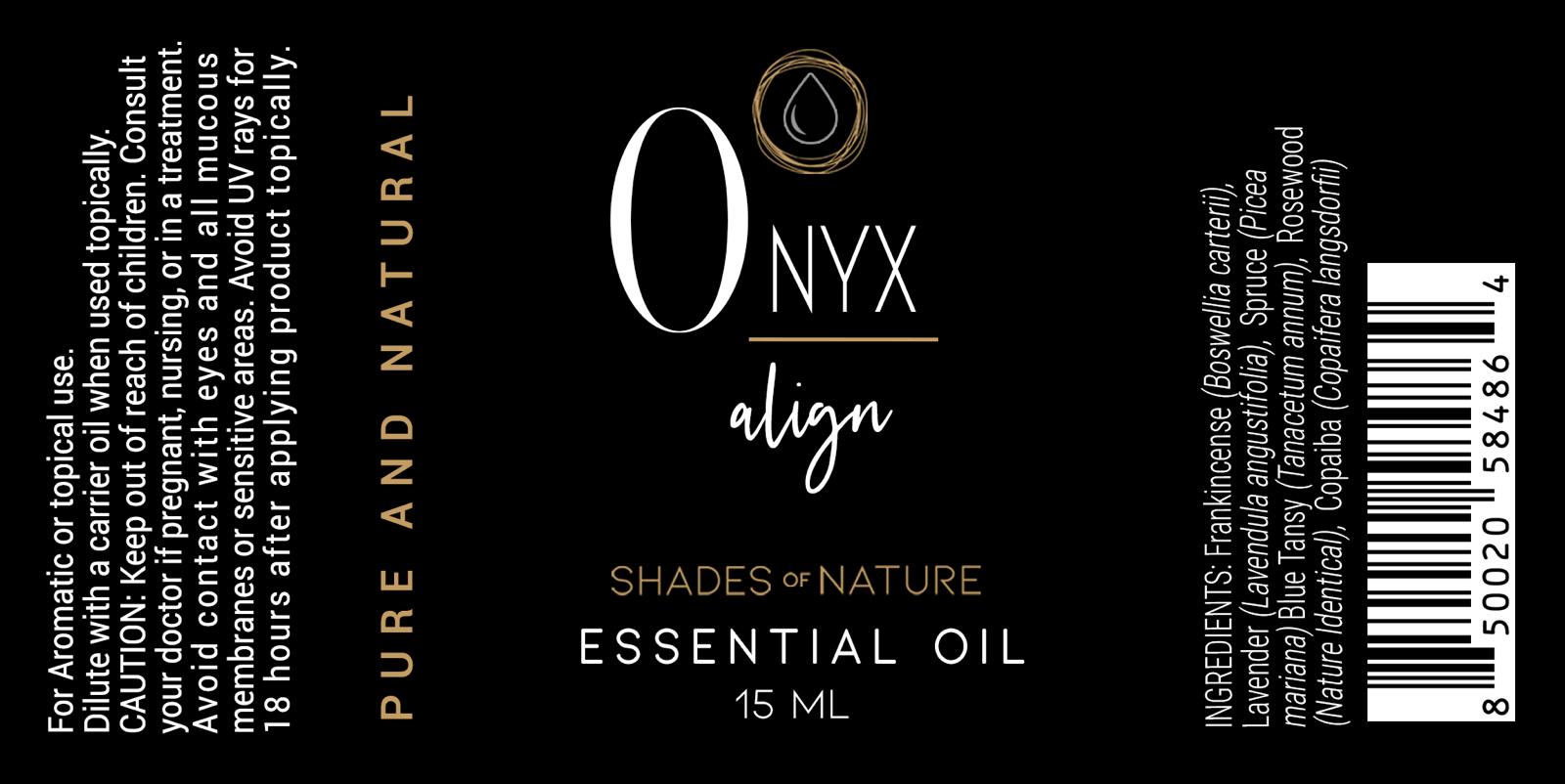 Onyx is a very grounding yet uplifting oil blend, it inspires feelings of courage and confidence, while improving mental clarity, relieving tension, and imparting a sense of emotional balance, physical alignment, and mental focus.*

In each bottle of Onyx oil, you will find a small piece of Onyx stone, this is added to enhance the oil with the subtle frequency of the Onyx, by transferring its energetic properties to the oil.*
USES
Mental Clarity
Tension Headache Relief
Relaxation

Physical Alignment

Circulation

Emotional Stability

 ELEMENTS
AROMATIC PROFILE: The enticing aroma of Onyx is refreshing, with herbaceous and somewhat sweet, floral notes lifting the spirits, while it's warm balsamic, woody and earthy notes keep you well grounded.
 INGREDIENTS: Our Onyx oil is an exquisite blend of Black Spruce, Blue Tansy, Copaiba, Frankincense, Lavender, and N.I. Rosewood essential oils, in a base of Sweet Almond oil.
 COLOR: Deep Blue or Teal

CONSISTENCY: Medium

BLENDS WITH: Wintergreen, Lavender, Frankincense, Conifers, and Minty oils.

CHAKRA: Root - Muladhara

GC /MS Certificate of Analysis 
ABOUT
Onyx is the most versatile of all our oil blends. The essential oils in Onyx were selected for the incredible mental, emotional, and physical benefits they impart.

The relaxing and balancing properties of Onyx oil have made it a useful remedy for tension and headache relief, they also support the body's natural ability to realign the skeletal structure.*

Several essential oils in Onyx have been used traditionally by the indigenous peoples of North and South America, in their healing and spiritual practices.

The Onyx stone is a form of microcrystalline quartz, which is usually black in color.

Traditionally, Onyx has been renowned as a stone that imparts valor, stamina, and confidence when worn on the body, its strength-giving energies providing support during times of mental or physical stress.*

Psychologically, Onyx encourages stability and self-control. Integrating dualities within a person, anchoring flighty tendencies to more grounded ways of life.*

Physically, Onyx balances the yin and yang energies within the body, Onyx is also said to have a positive effect on the nerves and bone marrow, fostering cell regeneration and good circulation.*

*These statements have not been evaluated by the Food and Drug Administration.
Shades of Nature product information is not intended to diagnose, treat, cure, or prevent any disease
SAFETY
Always dilute appropriately before use.
Keep out of reach of children.

Avoid contact with eyes, ears, and mucus membranes.

If essential oils get into the eyes or other sensitive areas, wipe them off with a cotton pad, napkin, or tissue and some carrier oil. Don't ever attempt to wash essential oils off, water spreads the oils over a larger area of the skin, and causes them to penetrate faster, intensifying the burning sensation.

CAUTION
CONTRAINDICATIONS:
Do not use this oil if you are sensitive to it, or allergic to any of its ingredients.
IMPORTANT
Although all of our essential oils are therapeutic grade, not all essential oils are suitable for use by everyone.
Essential Oils should not be used by anyone pregnant, lactating, on medication, or suffering from a medical condition, without consulting a qualified healthcare professional first.

All Shades of Nature products are intended for external use only unless otherwise indicated.

Always consult a qualified professional before ingesting any type of essential oil.

Shades of Nature guarantees BEAUTY, QUALITY of CRAFTSMANSHIP, and FUNCTIONALITY, if you are unhappy with your Stone Diffuser or Stone essential oil holder for any reason, please let us know so we can refund, replace, or resolve the issue. You must contact us within 30 days after you receive it.


Love onyx! Perfect for aches and bruises