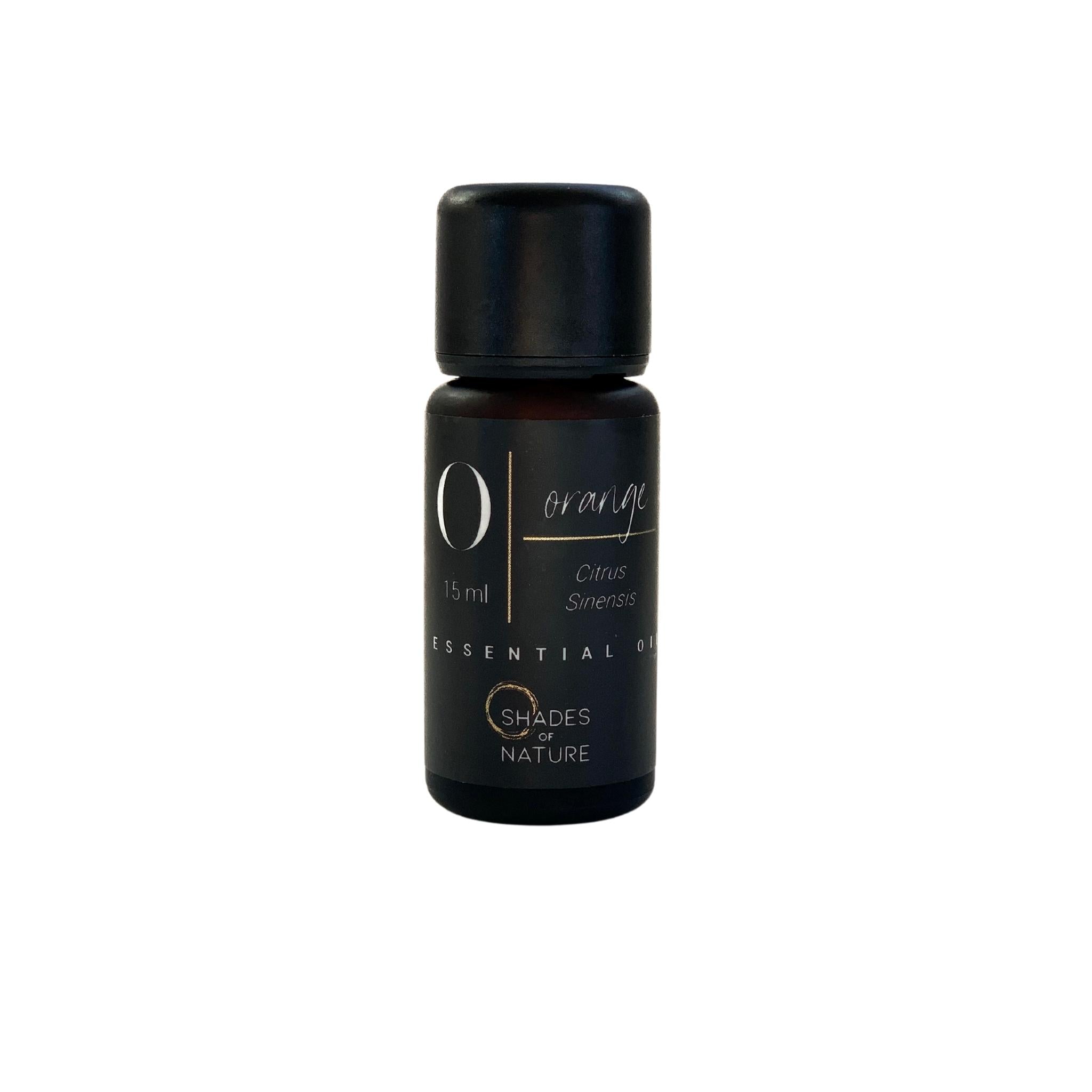 SMELLS LIKE FRESH ORANGE PEEL
Orange essential oil can really help promote positivity and help brighten your day!
This oil is loved by many because of its helpful vitamin C properties and its beautiful citrus aroma. A few drops can be diffused alone or mixed with other oils to uplift your mood and add its yummy scent to your home. 
Orange essential oil has many useful benefits from helping with acne, boosting immune systems, and helping with digestion; Orange is a must-have in your essential oil collection.
DETAILS
Aroma: Fresh Orange, sweet like candy, zesty, and tangy.
Latin Name: Citrus sinensis
Class: Monoterpene
Origin: Italy 
Plant Part: Fruit Peel
Extraction Method: Cold Pressed
Color/Consistency: A thin, yellowish orange to golden brown liquid.
Blends With: Lavender, Bergamot, Lemon, Clary Sage, Myrrh, Nutmeg, Cinnamon Bark, and Clove Bud.
USES
Add 5-7 drops to a diffuser for a sweet citrusy scent and a positive and happy atmosphere. 

Add a couple of drops to a quart of water for a digestive boost and added flavor.

Add a couple of drops to a facial cream for softer tighter skin.

Add a few drops to your wrists or diffuser jewelry to carry its lovely scent and benefits with you wherever you go. 
HISTORY

Orange is commonly known for its medicinal properties. The exact origin of orange is unknown, however, it is believed that it was a hybrid of the pomelo and the mandarin trees.
Orange was considered to be a form of the bitter orange tree for some time. In 1450, Italian traders introduced orange trees to the Mediterranean region. In the 16th century, oranges were introduced in England.
It is believed that Europeans valued citrus fruits primarily for their medicinal benefits.
For thousands of years, orange has been known for its ability to naturally boost immunity and reduce symptoms of various ailments because of this it made its way into natural and homeopathic medicine to help treat conditions such as acne, chronic stress, and other ailments.
Today orange is commonly used for flavoring foods, drinks, candies, and chocolates and it is also used in health products and in the cosmetic industry for its astringent and cleansing properties.
The therapeutic properties of orange were first recognized in ancient China, where the dried peel had been used for centuries to treat coughs and colds. Orange essential oil is cold-pressed from the ripe or almost ripe outer peel of the orange fruit.
IMPORTANT
For aromatic and topical use only.
Dilute with a carrier oil when used topically.
CAUTION: Keep out of reach of children. Consult your doctor if you are pregnant, nursing, or in treatment. Avoid contact with your eyes and all mucous membranes or sensitive areas. Avoid UV rays for 18 hours after applying topically.
Shades of Nature guarantees BEAUTY, QUALITY of CRAFTSMANSHIP, and FUNCTIONALITY, if you are unhappy with your Stone Diffuser or Stone essential oil holder for any reason, please let us know so we can refund, replace, or resolve the issue. You must contact us within 30 days after you receive it.