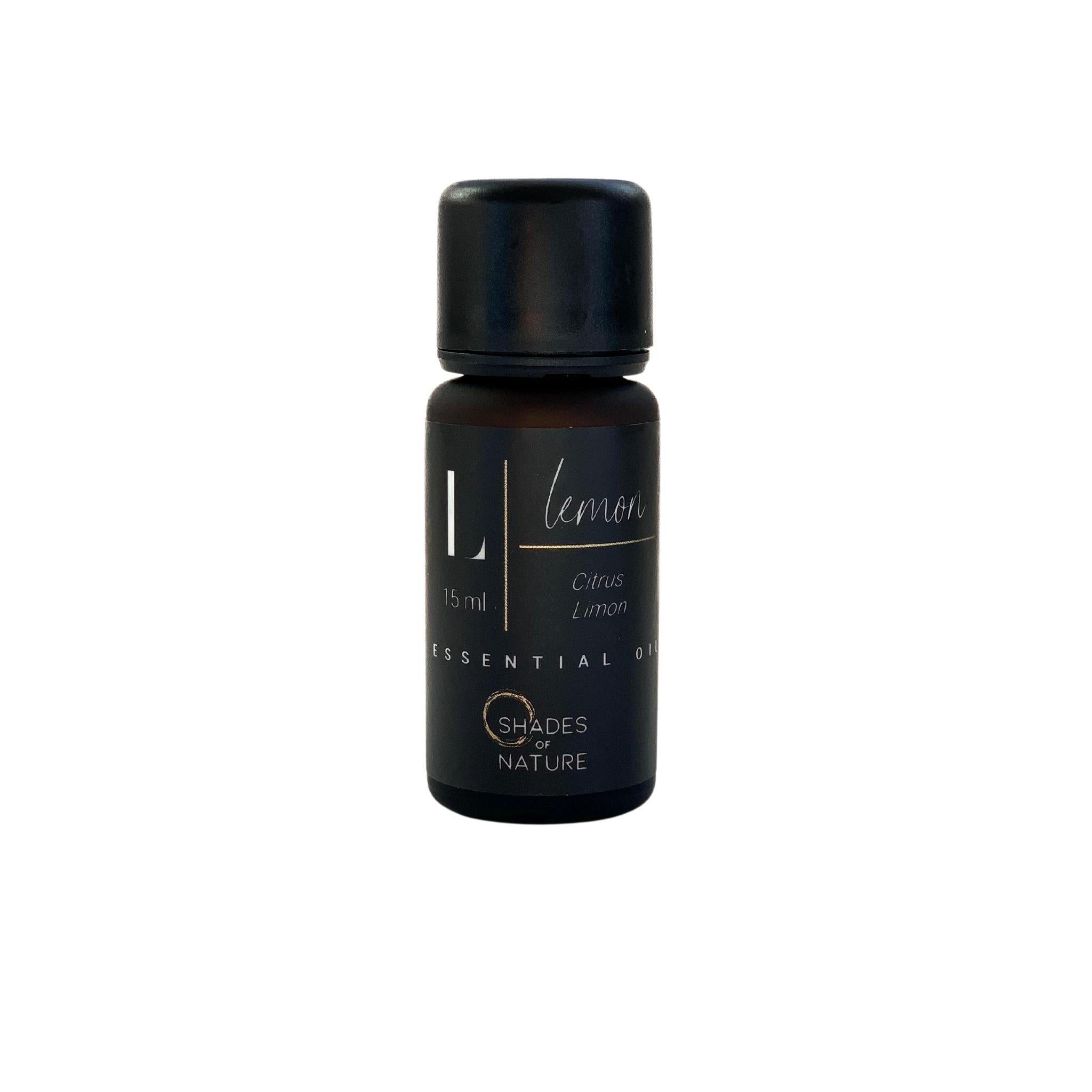 SMELLS LIKE FRESH LEMONADE
Who doesn't love the smell of fresh lemons!
Lemon essential oil is a fantastic multi-purpose oil to have in your home. It smells fresh and is a great cleaner and disinfectant. 
Diffusing and cleaning with Lemon essential oil can help put us in a bright and cheerful mood. It acts as an air freshener and an energy booster to tackle any day.
DETAILS
Aroma: Lemony, sweet, fresh, strong, and pleasant.
Latin Name: Citrus Limon 
Class: Monoterpene
Origin: Italy
Plant Part: Fruit Peel
Extraction Method: Cold Pressed
Color / Consistency: A thin, greenish-yellow liquid.
Blends With: Bergamot, Eucalyptus, Fennel, Orange, and Frankincense.
USES
Add 5-8 drops in a diffuser to improve concentration and uplift spirits.

Add a few drops to water for a fresh good flavor and cleansing support. 

Dilute 10 drops in a spray bottle with water or vinegar for a surface cleaner.

Add a few drops of lemon oil to a cotton ball to remove unwanted sticky residue, crayon, pen, or marker stains. 
HISTORY

Lemon trees are native to Asia and were used not only by Indians but also Egyptians and Romans to treat many diseases. Lemon trees are believed to have been brought to Europe around 200 A.D. 
Due to their antiseptic and anti-bacterial properties, English sailors in the Royal Navy would use lemons while sailing to protect themselves against scurvy and vitamin deficiencies.
The fruit and the essential oil both have been used in Ayurvedic medicine for thousands of years to treat a large range of health issues.
Lemon is a fantastic multipurpose oil to have in any home. Today it is commonly used in the perfume industry, also to improve mood and concentration and in culinary practices.
IMPORTANT
For aromatic and topical use only.
Dilute with a carrier oil when used topically.
CAUTION: Keep out of reach of children. Consult your doctor if you are pregnant, nursing, or in treatment. Avoid contact with your eyes and all mucous membranes or sensitive areas. Avoid UV rays for 18 hours after applying topically. 
Shades of Nature guarantees BEAUTY, QUALITY of CRAFTSMANSHIP, and FUNCTIONALITY, if you are unhappy with your Stone Diffuser or Stone essential oil holder for any reason, please let us know so we can refund, replace, or resolve the issue. You must contact us within 30 days after you receive it.


Lemon oil is one I keep on hand!
First I'd like to say that I'm very impressed with the quality of oils that Shades of Nature has to offer. This oil has many uses, but I use it on scrapes and cuts. It works so well for disinfecting the area and also helps to prevent scarring. You can also rub it into scars to help diminish them.
Great citrus oil
I love to pair this baking soda for bathroom cleaning or with peppermint and lavender to diffuse for coughs. One of my favorites