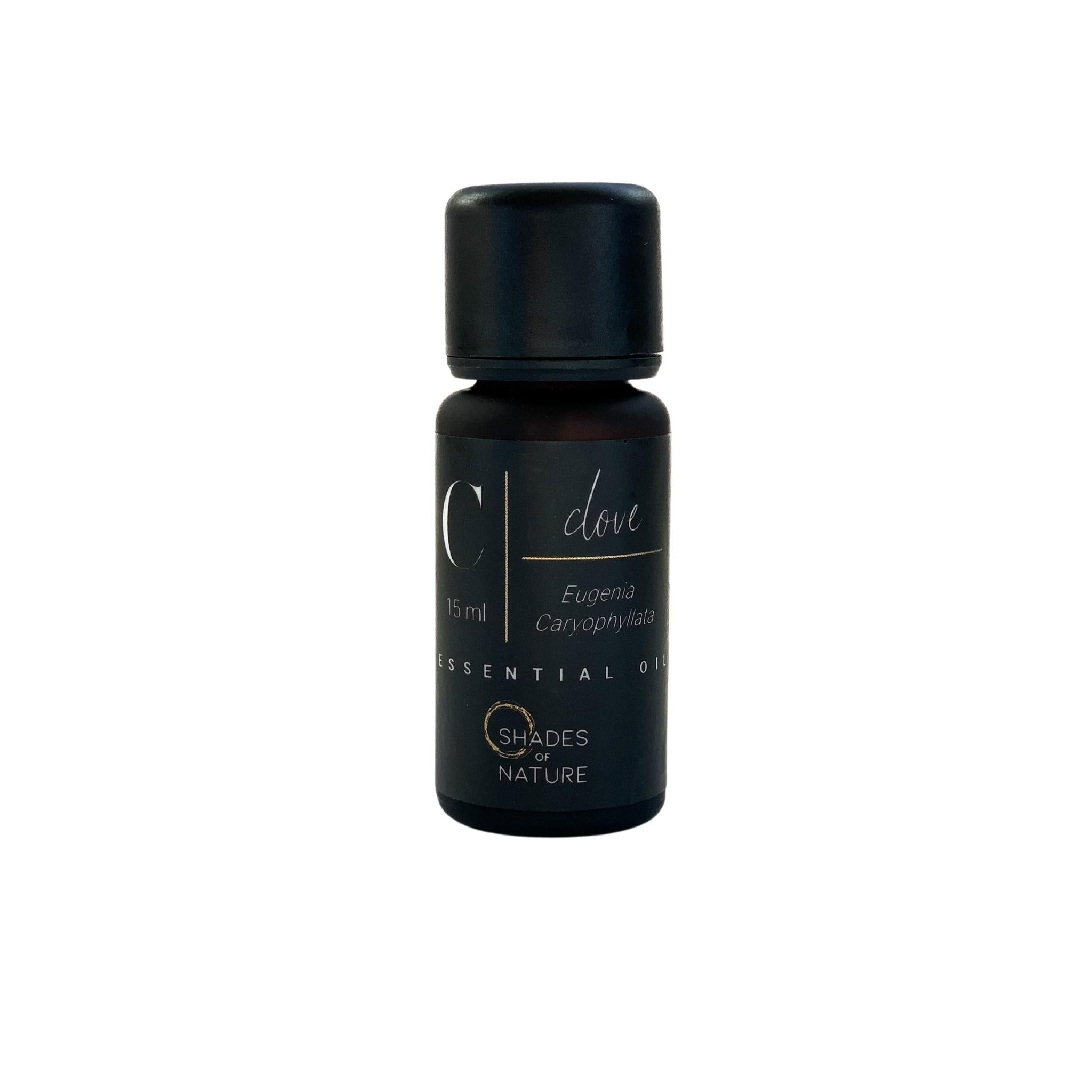 SMELLS LIKE FALL SPICES
Clove essential oil smells like the actual spice, strong, intense, and warming. Whether you are diffusing, baking, or topically applying Clove essential oil, you will be reminded of fall and winter and all the wonderful holidays during those seasons.  
Clove has many amazing healing properties, Clove helps with air quality, overall health, and mood, which makes it a must-have in your oil collection.
DETAILS 

Aroma: Deeply spicy, clove bud, earthy, powerful.
Latin Name: Eugenia Caryophyllata 
Class: Phenolic Ether
Origin: Madagascar
Plant Part: Bud
Extraction Method: Steam Distilled
Color / Consistency: A clear pale yellow to yellow liquid of medium consistency.
Blends With: Blends well with other spice oils including Cinnamon Bark, Nutmeg, Citronella, Grapefruit, Lemon, Orange, Peppermint, and  Rosemary.
USES
Diffuse 5 drops for a powerful clove aroma or enhance the effect by adding a few drops of a second or third oil to your diffuser.

It can be used around the house to remove mold and deter insects.

Add a drop of two to the dough of your homemade spicy baked desserts. 

Blend alongside other oils like Orange, Peppermint, Rosemary as a finishing touch while cleaning.
 HISTORY
During the 16th and 17th centuries, clove was one of the most precious spices, along with nutmeg, and could be found at the center of expeditions and even wars.
Clove has been used for years in dental care.
It has been used in Asia as a cooking spice for over two thousand years and has deep roots in India where it was used to heal cavities.
By diffusing the oil through the air, air quality can be improved and you may benefit from the mental benefits of clove oil, including improved memory, lessened anxiety, and improved overall mood.
IMPORTANT
For aromatic and topical use only.
Dilute with a carrier oil when used topically.
CAUTION: Keep out of reach of children. Consult your doctor if you are pregnant, nursing, or in treatment. Avoid contact with your eyes and all mucous membranes or sensitive areas. Avoid UV rays for 18 hours after applying topically.
Shades of Nature guarantees BEAUTY, QUALITY of CRAFTSMANSHIP, and FUNCTIONALITY, if you are unhappy with your Stone Diffuser or Stone essential oil holder for any reason, please let us know so we can refund, replace, or resolve the issue. You must contact us within 30 days after you receive it.


Get this oil for your teething baby
Seriously. This is all I use if my baby is in pain teething. I don't use drugs. It'll burn for a split second then it numbs so fast the baby can't feel anything. So you can dilute it a little in coconut oil if you don't want it to sting. It has helped so much for teeth infections. And I love the smell for winter diffusing it with cinnamon.
Warm, aromatic, fragrant
Potent, just a touch on babies gums, after initial crying teething pain is gone!