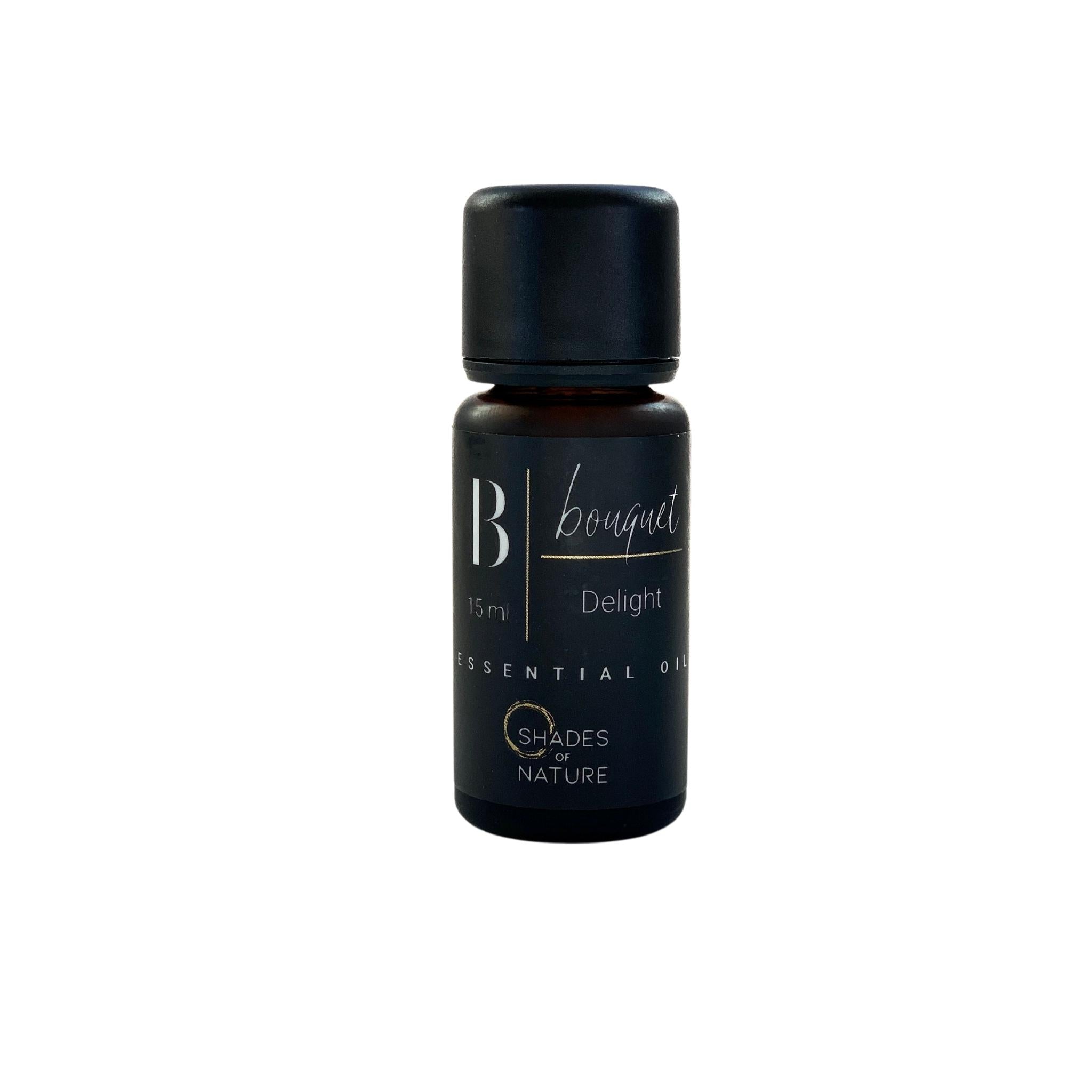 LIKE WALKING INTO A FLOWER SHOP
With just a few drops of this floral blend in your diffuser, it will feel like your home comes to life with all the beautiful smells that envelope a local flower shop. 

Bouquet is best enjoyed at the peak of your day, adding that finishing touch to uplift your home's spirit.
DETAILS
Aroma: Floral, beautiful, natural, strong, and delightful. 
Ingredients: Jasmine, Ylang Ylang, Helichrysum, Clary Sage, Geranium. 
Color/Consistency: A Thin to mildly heavier viscosity. Light yellow-brown like in color.
 USES
Add 5-8 drops to your diffuser to freshen and liven your space.
Apply a diluted mix to the skin for a natural perfume.
Add to a facial cream or lotion for lovely skin.
Add a few drops to your natural spray cleaner to help disinfect and leave your home smelling absolutely lovely. 
BLEND INSPIRATION
There are not very many things more delightful than a fresh bouquet of flowers in your home, with just a few drops of this floral blend in your diffuser, you will feel surrounded by beautiful bouquets of flowers.
Emotionally it is uplifting and can give a sense of confidence and control. Promotes self-efficiency and a feeling of security. Medicinally it is antibacterial, antiviral, antifungal, and cleansing. This is a perfect blend for you in your home as a healthy alternative for surface cleaning and disinfecting, besides leaving your home smelling absolutely lovely.
IMPORTANT
 For aromatic and topical use only.
Dilute with a carrier oil when used topically.
CAUTION: Keep out of reach of children. Consult your doctor if you are pregnant, nursing, or in treatment. Avoid contact with your eyes and all mucous membranes or sensitive areas. Avoid UV rays for 18 hours after applying topically.   
Shades of Nature guarantees BEAUTY, QUALITY of CRAFTSMANSHIP, and FUNCTIONALITY, if you are unhappy with your Stone Diffuser or Stone essential oil holder for any reason, please let us know so we can refund, replace, or resolve the issue. You must contact us within 30 days after you receive it.


Such a pleasant aroma!
If you love the smell of flowers you'll love this oil! It's like a bouquet in a bottle! Perfect for difusing in your home to add a wonderful and inviting aroma.
Sophisticated favorite!
This blend is so elegant and inviting! When my mom is on the way to visit I get this going in the diffuser because it's become one of her favorites! Literally makes my home smell of a beautiful flower shop and I love that about this blend! Only 5 drops and it fills the whole family room!
I Love it!
This is one of my favorite blends I've used. It really does smell like a lovely bouquet of flowers. It's worth a try!