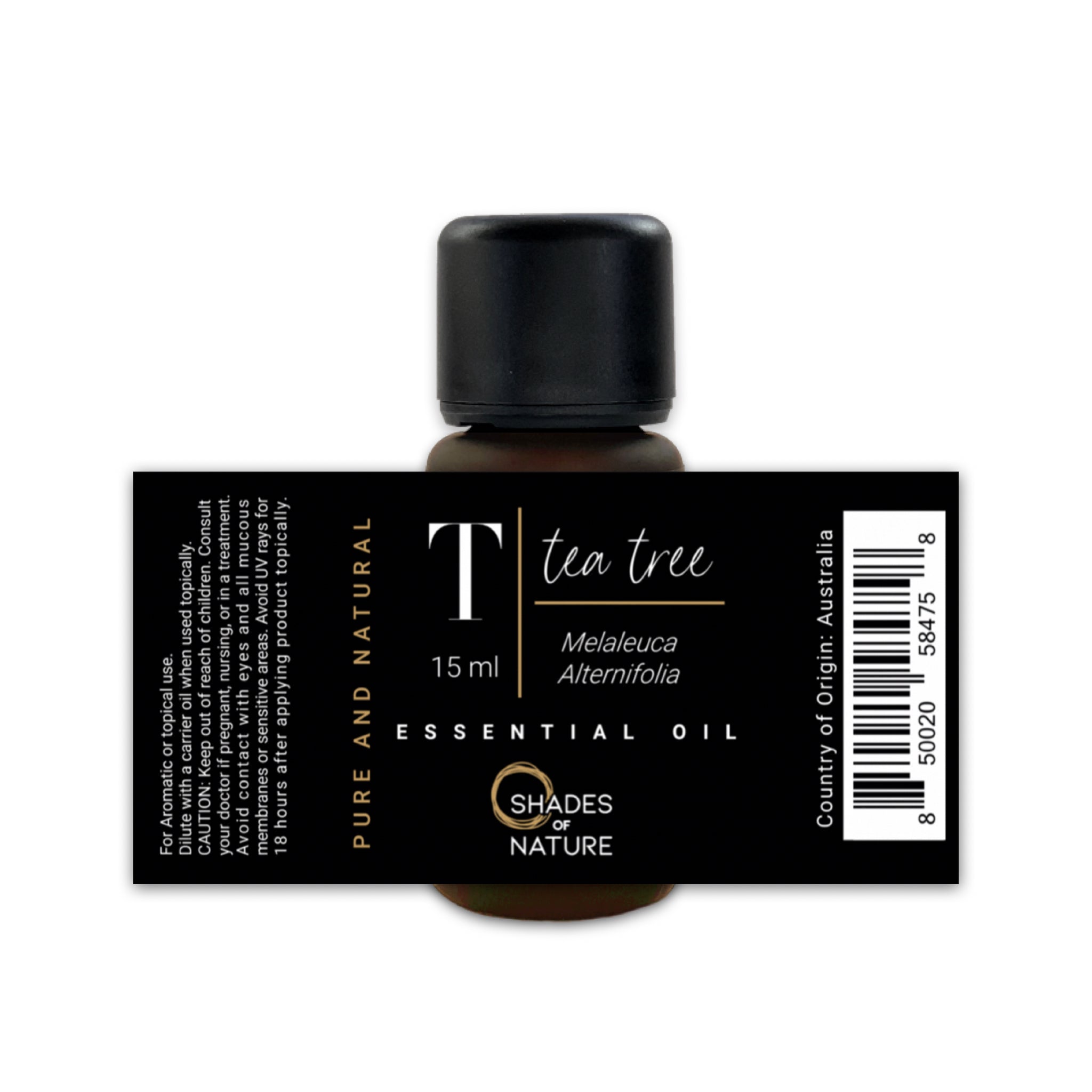 SMELLS LIKE WALKING IN NATURE 
Herbal, cleansing, and medicinal. Tea Tree is adored by many because of its purifying,  and antibacterial properties making it useful beyond making your home smelling like a minty forest.
Often used for facial cleansing and to treat acne, disinfect your home, and polish jewelry naturally, Tea Tree is amongst the most useful Essential Oils out there.
 Tea Tree Essential Oil has a fresh, antiseptic, and medicinal scent, making it feel effective immediately. 
DETAILS
Aroma: Herbaceous, green, medicinal, slightly minty, and sharp.
Latin Name: Melaleuca Alternifolia
Country of Origin: Australia
Class: Monoterpenol
Plant Part: Leaves
Extraction Method: Steam Distilled
Color / Consistency: A thin, clear to pale yellow liquid. 
Blends with: Bergamot, Cypress, Eucalyptus, Lemon, Lavender, Marjoram, and Nutmeg.
USES
Add 5-8 drops in a diffuser to fill your house with a minty therapeutic aroma.

Add to a face wash or cream for a nourishing facial treatment.

Add a few drops to your shampoo for reducing dandruff and kill lice. 

Apply to acne to help reduce swelling. 

Used to create hand sanitizer. 
HISTORY
Tea Tree has been used for decades. The leaves of Melaleuca Alternifolia were used for many years by the indigenous people of Australia. The Australian aboriginal people used tea tree leaves in mud poultices to treat infections in cuts and wounds.
Gradually the scientific community began to research and document the effects of the plant and its advantages as a beneficial aid in eliminating bacteria, viruses, and fungi. because of its powerful antiseptic properties, it is known for its ability to treat wounds and for its natural anti-inflammatory properties.
Today it is commonly used for facial cleansing and acne, athlete's feet, nail fungus, and insect bites.
IMPORTANT
For aromatic and topical use only.
Dilute with a carrier oil when used topically.
CAUTION: Keep out of reach of children. Consult your doctor if you are pregnant, nursing, or in treatment. Avoid contact with your eyes and all mucous membranes or sensitive areas. Avoid UV rays for 18 hours after applying topically. 
Shades of Nature guarantees BEAUTY, QUALITY of CRAFTSMANSHIP, and FUNCTIONALITY, if you are unhappy with your Stone Diffuser or Stone essential oil holder for any reason, please let us know so we can refund, replace, or resolve the issue. You must contact us within 30 days after you receive it.


Great high quality tea tree
Tea tree is an easy grab to fix so many things. I love that this brand is so high quality and I don't have to worry about it having fillers! Thank you!!
My most used oil in my house!
This is one of my most used oils. Any blemish on my skin it will dry it out and help it go away so fast. Anytime I get any type of mosquito bite or irritation on the skin it's my go to oil. It dries it all up so fast and disinfects it. I love love love this oil. Bugs bites, acne, rashes, infection, chicken pox, impetigo, these are all things I've used it for and works amazing!! I always have this one on hand. I love that it's very potent and not diluted. I've bought enough a different brand of tea tree before and it didn't seem very strong. It was a weak oil.