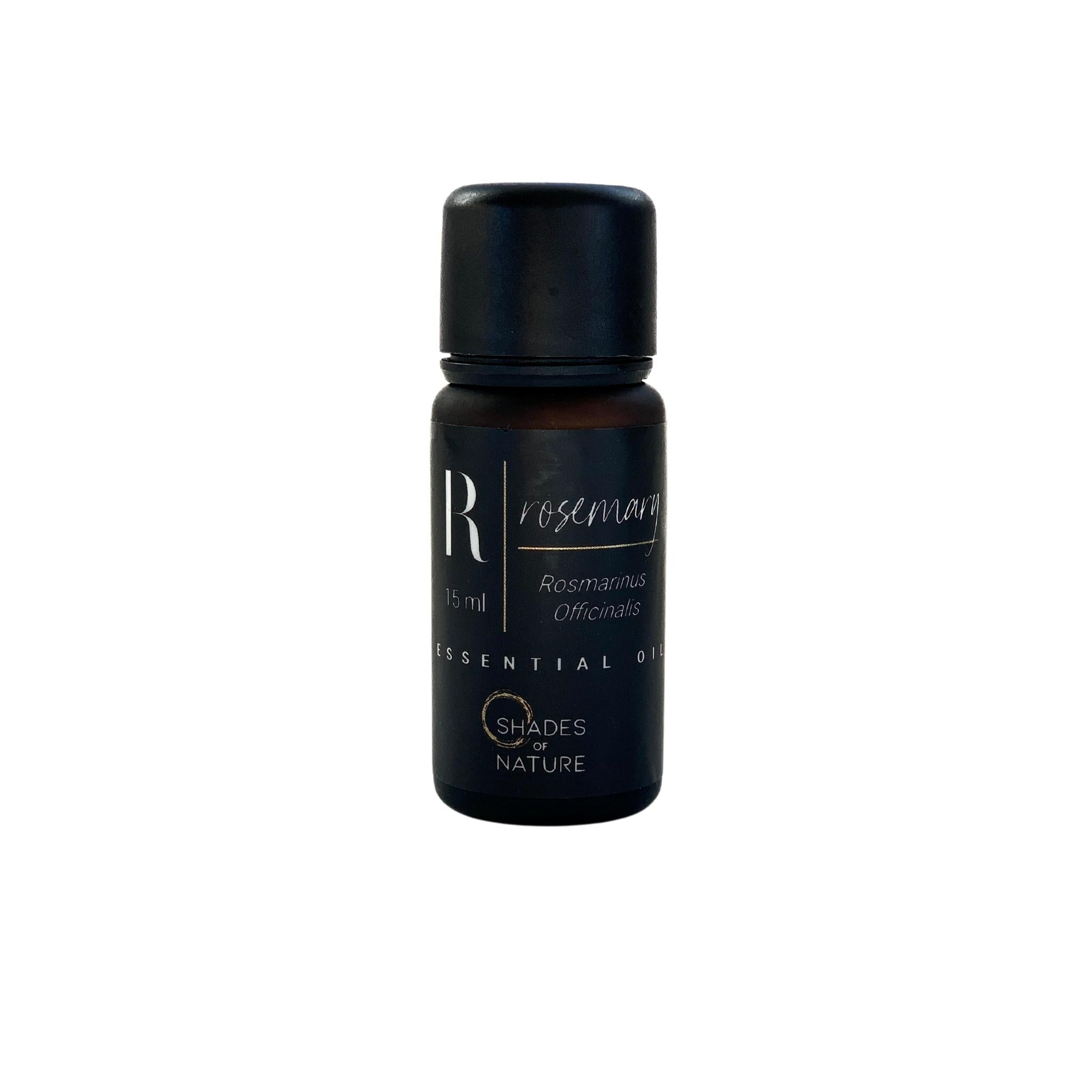 SMELLS LIKE FRESH MINT AND HERBS 
Rosemary is an energizing oil,  its woodsy and minty aroma help induce focus, memory, and energy, it has become people's favorite study companion. Take 5 minutes to inhale the aroma before you begin any focus session and allow the Rosemary essential oil to work its magic.  
Diffuse Rosemary in your home or apply topically and enjoy its many benefits.
DETAILS
Aroma: Minty, fresh, herbaceous, strong, and woodsy.
Latin Name: Rosmarinus Officinalis
Class: Oxide/Ether
Country of origin: Morocco
Plant Part: Leaf
Extraction Method: Steam Distilled
Color / Consistency: A thin, clear, colorless to pale yellow liquid.
Blends well with: Basil, Bergamot, Frankincense, Ginger, Lemon, Orange, and Peppermint.
USES
Add 5-8 drops to your diffuser to increase focus and energy. 

Add a few drops to your shampoo to help with dandruff and stimulate hair growth. 

Breath in 5 minutes prior to work sessions to help increase focus and brain stimulation.

Add a few drops to your meat or your favorite soups for a great flavor.

Also great for easing congestion and breathing.
HISTORY

Rosemary is native to the Mediterranean and receives its name from the Latin words "ros" (dew) and "marinus" (sea), which means "dew of the Sea." it is grown and cultivated in many parts of the world, but primarily in Morocco. Its appearance is similar to Lavender with flat pine-like needles that have light traces of silver.
Rosemary was considered sacred by ancient Greeks, Egyptians, Hebrews, and Romans. The Greeks wore rosemary garlands around their heads while studying, as it was believed to improve memory, and both the Greeks and the Romans used rosemary in almost all festivals and religious ceremonies.
For thousands of years, folk medicine has also used rosemary for its ability to improve memory, soothe digestive issues, and relieve aching muscles.
More recently Rosemary has had studies were done that have proven it is in fact beneficial to increase focus and memory.
IMPORTANT

For aromatic and topical use only.
Dilute with a carrier oil when used topically.
CAUTION: Keep out of reach of children. Consult your doctor if you are pregnant, nursing, or in treatment. Avoid contact with your eyes and all mucous membranes or sensitive areas. Avoid UV rays for 18 hours after applying topically. 
Shades of Nature guarantees BEAUTY, QUALITY of CRAFTSMANSHIP, and FUNCTIONALITY, if you are unhappy with your Stone Diffuser or Stone essential oil holder for any reason, please let us know so we can refund, replace, or resolve the issue. You must contact us within 30 days after you receive it.


My favorite
Though Rosemary isn't the very most popular EO it happens to be my favorite.
It has so many uses ranging from respiratory, immune boosting, anti fungal to hair growth, dandruff and improved memory and brain function.
Not mention it is a gentle oil like lavender and Geranium making it great for babies and younger children.
It is honestly one of the best oils out there and this brand is so amazing!
Its my go to for many things!