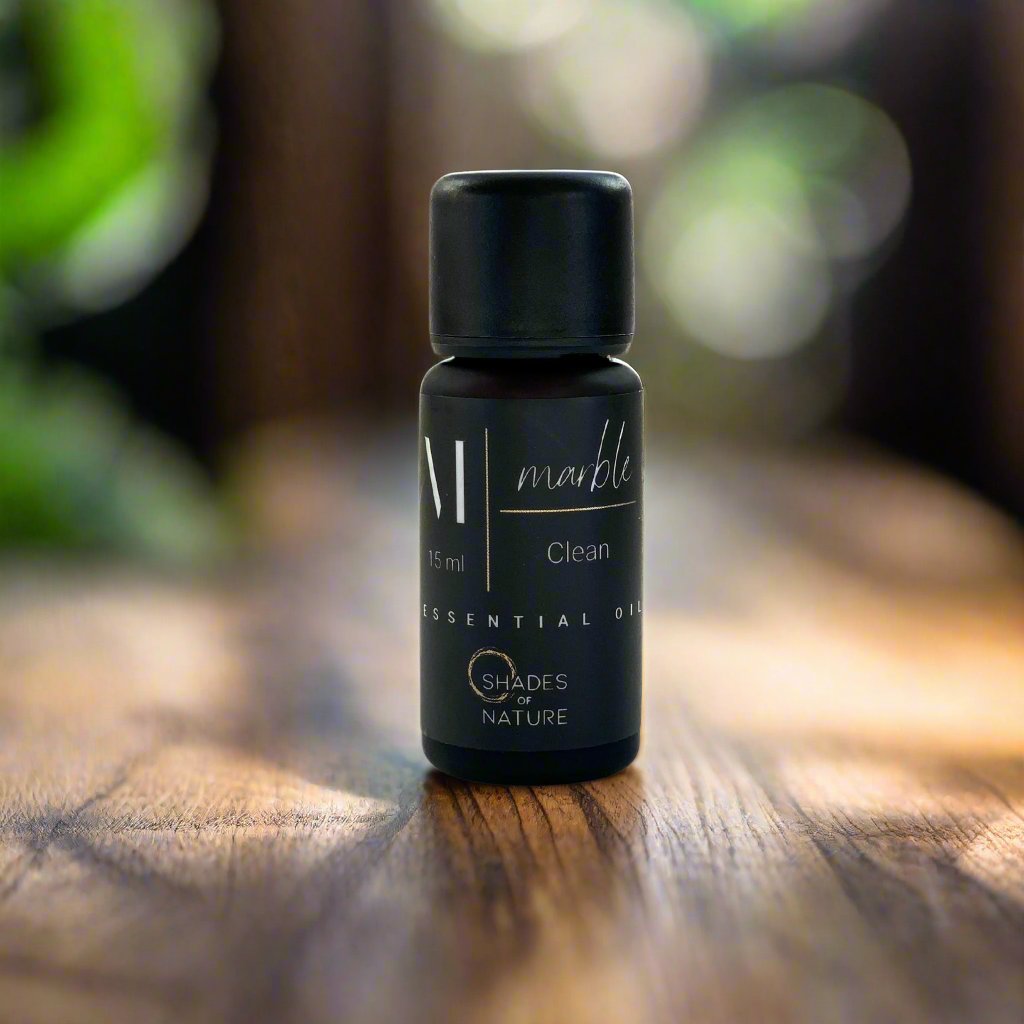 FEELS LIKE A FRESH AND CLEAN HOME
Who doesn't love the feeling of a freshly cleaned home!
This is a perfect blend to use in your home as a healthy alternative for surface cleaning and disinfecting while leaving your home smelling absolutely lovely.
That clean home scent gives you the feeling of accomplishment and satisfaction. Usually our homes don't usually stay clean for long, but when our home smells fresh it is all the more rewarding. When you are ready to clean your home put some Marble in your diffuser and your cleaning products and Enjoy!
DETAILS
Aroma: Forest, lemon, fresh, pure, and clean.
Ingredients: Lemon, Eucalyptus, Pine.
Color/Consistency: A thin, clear to light yellow.
USES
Add 5-8 drops in a diffuser to clean the air and add a fresh clean, crisp aroma to your home.

Add a few drops to a spray bottle, with some castile soap, fill with water, spray in the kitchen and bathrooms to clean and purify your home.
BLEND INSPIRATION
After cleaning your home with Marble, you can look around your house and appreciate your beautifully organized home while taking a deep breath of your home's beautiful clean scent.
Emotionally it is uplifting and can give a sense of confidence and control. It promotes self-efficiency and a feeling of security. 
IMPORTANT
For aromatic and topical use only.
Dilute with a carrier oil when used topically.
CAUTION: Keep out of reach of children. Consult your doctor if you are pregnant, nursing, or in treatment. Avoid contact with your eyes and all mucous membranes or sensitive areas. Avoid UV rays for 18 hours after applying topically.   
Shades of Nature guarantees BEAUTY, QUALITY of CRAFTSMANSHIP, and FUNCTIONALITY, if you are unhappy with your Stone Diffuser or Stone essential oil holder for any reason, please let us know so we can refund, replace, or resolve the issue. You must contact us within 30 days after you receive it.


Lovely scent
This scent was the perfect blend. It's a really well rounded blend with a pure, natural scent. Only a few drops are needed to provide hours of beautiful scent.